Today I'm still working on the concept for my Architect's "Nano-Pack." I made the design less blocky by adding in a large center piece where the tube will connect to the Nano-Gun. It's the character's main weapon so I want to be sure to spend time focusing on it's design.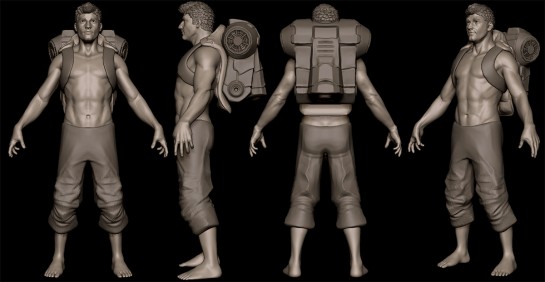 I'm also beginning to play with ideas based on my concept art on how it will attach and layer with his clothing. He has a huge coat on that I haven't accounted for yet but I'll add in that layer tomorrow and keep laying objects on top of each other to plan out how things fit.
To take a break from my hair card placement yesterday I also began blocking in his pants. They are a brand called katanica, his jacket is as well and I think it's a really bad ass design. They have zippers, straps, pockets and all sorts of fun things to play with while sculpting. They fall just below his knee where they slightly tuck into his boots.
I mentioned the hair cards, and in the above screen capture they're done (for now) Here is a closer shot of them. They are quite close to my model's hair and I'll continue tweaking them as I work. I wanted something in place so when I'm working I get the full effect of my character's personality.