Big things are happening right now, my thesis is coming along great (but slowly because I seem to erase as much as I sculpt) I have my first client who's actually making video games and I'm building lots of models that aren't going to be 3D printed for once in a long time. It's overwhelming but great, and is feeling more natural finally.
Here's a shot from my thesis last week, I'm beginning to simplify my character's silhouette so that remetoplogizing won't be the worst thing int he world. I'm trying to add in some different materials close to the body and interesting stitching with fabric changes to add realism and style to my guy.
His mask will be removed on the next update, I got smashed about that because I'm hiding his face and I shouldn't. Stuff like that happens when you are just scribbling in ZBrush looking for a solution to a problem. Big updates will be coming soon, I'm finishing up his weapon, going to modify his pistol and add another melee weapon to his other leg. That'll be bad ass enough I think. Lets hope so!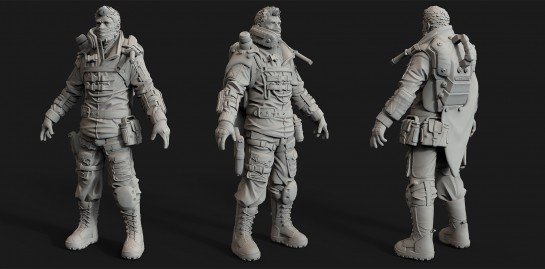 I need to contact a few clients to see if I can post up some work on my website because I'm really loving what I'm doing on some projects but I'm under some NDA's right now 🙁 That's the name of the game though I suppose!