Wow,  it's April and I haven't been posting much of anything lately! How sad… I'm going to attempt to change that in the coming weeks through the creation of some tutorials. I'm planning them out right now but they'll cover how I create miniatures in my style, how I damage armor and sculpt well.. most things. The first I'll be creating this weekend and will focus on the process I use to create stylized hair.
My thesis is coming along as well but I feel as though I'm obsessing over it a little bit and it's really pulling away a lot of my attention that should be spent on my clients and launching my professional career. The clients I have right now are great and I just impressed my newest super secret client with a miniature in progress so I'm quite pleased with that!
I suppose since this post has the word "thesis" in the title I should be writing about that. The first two characters are turning into what I hoped my first attempt at my thesis would be. great, stylized sculpts that portray very distinct attributes. The first of 3 for my thesis is coming along, I'm attempting to build up his personality and bad-ass level at this stage in the sculpt before truly  hammering home the detail. I'm liking working on him and really have been getting some fantastic critiques from everyone.
Also I should add in here that I titled this screen shot "Jack Sampson" so that might be his name now?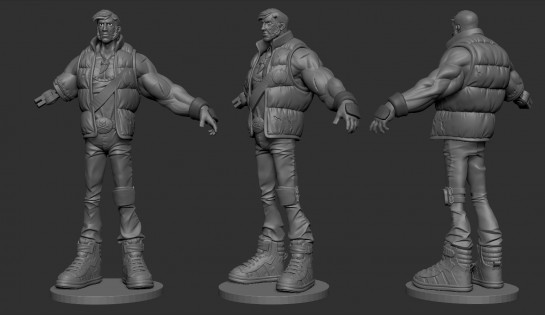 The second is on the opposite side of the spectrum as far as body types. I've posted other shots of him before and am still working on preliminary stuff for him, IE silhouette and forms for musculature and such. Loving how he's coming along and I can't wait to finish a few more aspects of his larger forms because I think he's going to truly come to life!
I should probably also say that since I titled the first screen shot I named this one Bubba Hendricks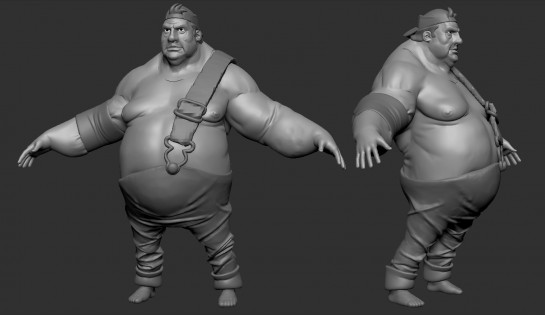 Both of them are coming along and I'm trying to move from one another quickly as to not get incredibly caught up in what I'm doing. Tunnel vision is bad when working in 3D and it's what made me waste 4 months of time on this thesis before I completely rehauled my idea. I'm feeling a tunnel forming with Jack Sampson so I'm pulling away from him for the weekend to focus on my upcoming tutorials!